MonkeyBrains Wireless
General Wireless info
RESIDENTIAL service: The setup fee is $250 and the monthly is $35/month billed quarterly. Speeds are 8Mbps to 20Mbps up and down. Fill out the Sign Up form, and we'll contact you to see if your house is eligible for this program (it requires "line of sight" to our antenna).
BUSINESS accounts: Fill out the same form and note that you are a business / collective (eg art studios with 9 tenants) and we will contact you. Prices will be determined on your speed requirements, the total capacity you will utilize, and your distance from our fiber points. Most setup fees are under $400 for businesses, but installing FSO gear or conduit will increase costs.
MULTI UNIT buildings: Multi-unit buildings are welcome! The monthly is $35/month per unit billed quarterly -- install fee is $250 but discounts apply to multiple units installed same day.
Wireless FAQ
[1] What is the setup cost?
Usually $250.
[2] What do I pay for Internet in 2010?
Residential and qualifying small businesses: $0
[3] What do I pay for Internet?
$105/quarterly [that works out to $35/month]. The remainder of your install month is included in the install. eg, if installed Jan 10th, then the remainder of January is included in your setup fee.
[4] Am I in range?
The Pilot Program is mainly in the Mission, SoMA, and Bernal. Please view the map on this page... DogPatch and Portola got service in March 2011. Glen Park will be getting service in the future.
[5] How big is the antenna?
The size of a shoe.
[6] What do I do?
Fill out the form on the Sign up link above. We'll schedule a 'site survey' where we come by your house/apartment and determine if you have signal to our antennas.
[7] How long until you get me set up?
We are pretty busy --- anywhere from 1 to 3 weeks. (Subject to change based on demand.)
[8] Do you have a technical drawing of the install I can provide my landlord?
Sure. Download this drawing.
[9] Do you have a troubleshooting guide?
Check the troubleshooting section of this page.
[10] Microwave Radiation concerns?
Emits less radiation than 3 smart phones AND it is up on the roof, much farther from your head than your cell phone. More Info from WHO.
Coverage Map
We continue to grow our network, but keeping our existing footprint stable is a higher priority. Below is a map showing our primary areas of service -- some neighborhoods adjacent to lit neighborhoods may get coverage. Fill out the Sign Up form and we will let you know if you are in range! We modified an excellent map by burritojustice.com -- with permission.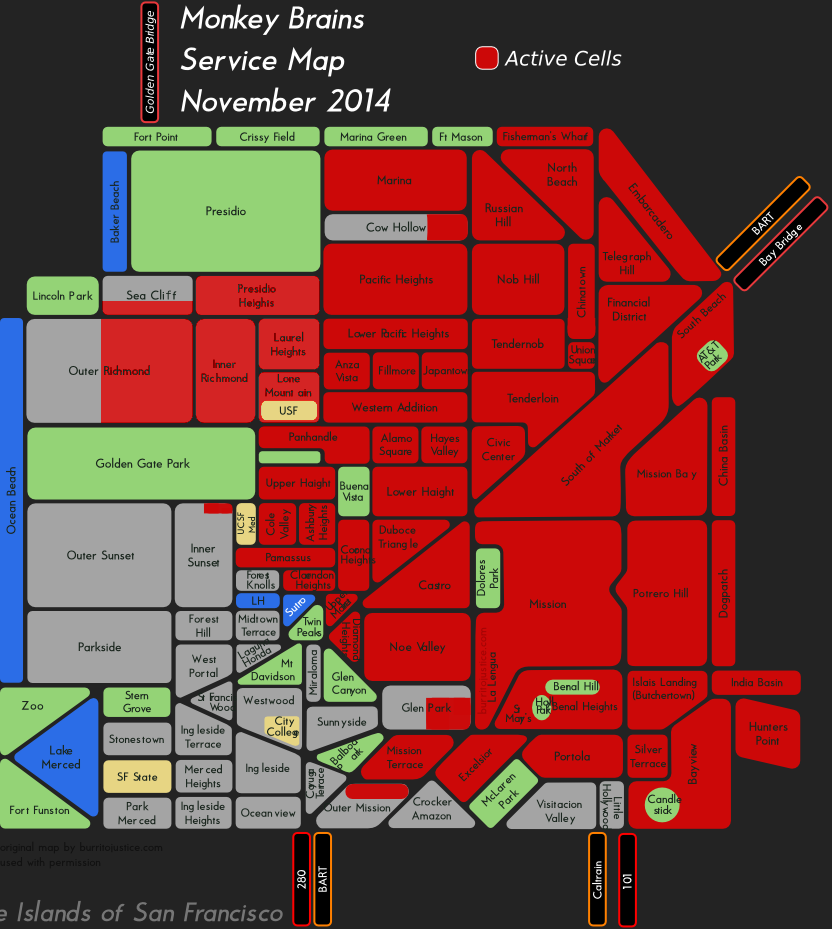 Troubleshooting Tips
No connection
If you have a POE injector (little black box pictured to the right) in your unit, check to make sure that the LED on it is lit. The wire from the outside should go in the POE port and your home network should go into the LAN port. If you don't have a link, make sure your plugs are fully seated: gently push the Ethernet cables into the POE injector ports to ensure they are all the way in.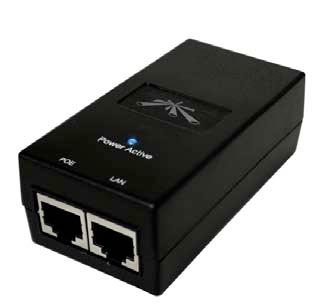 Slow? How to test your speed
To rule out your home network as a possible source of slowness, always test using an Ethernet cord plugged directly into the POE injector. Plug your laptop into the LAN port leaving the POE port plugged into the wire that goes to your roof. The POE injector is the black image on the right ---->
Having your wireless router plugged in and using wireless from your laptop introduces a whole slew of possible issues that are out of our realm. We provide Internet to your house, you are responsible for your home network (every customer sets theirs up differently, and we don't have the manpower to become your home IT team).


Possible reasons for slowness
We have seen lousy connection from all of the following:
Network issues that MonkeyBrains is aware of and working on (check our twitter status)
Interference: equipment in -- or close to -- your house is configured for the same frequency as our antenna (email us; try testing via Ethernet cable with your wireless device powered off)
A rotated or tilted antenna after a storm (visually glance at your antenna from the ground, look normal?)
Your antenna was installed incorrectly -- a tech needs to come out to realign
An over taxed link on our network (we are always adding capacity!)
Your computer is infected with a virus
Your home computer has been sending or receiving more than 1TB of traffic in a month -- our bots may have throttled your link to 10Mbps (This doesn't apply to business level accounts)
Test your speed
More tips to Improve Your Internet Speeds
Speeds
Speeds vary depending on whether you have a dedicated link or are on a shared sector (residential). Your location and whether you have line of sight to our antennas also play a large roll. About 4% of people end up with installs that don't work out due to various interference we can't control -- in this situation, we refund you your entire install (you must request this in the first 30 days of service) when you return the antenna.

A higher end and a mid-tier business class customer (dedicated link, more expensive gear):

A residential link from Alabama and 25th / 23rd and Harrison:

Speeds we consider fine for a $35/month link: